by Hallie Levine
www.health.com
When divorce and death blew my world apart¸ training for a marathon helped me find the way forward again.
During times of extreme stress some women eat some women drink and some women binge-watch Real Housewives.
But I was in the midst of a contentious divorce, and I didn't want to risk anything—even Cold Stone Creamery benders—being used against me. So last winter, I decided to run a marathon as a way to escape the painful reality of my life.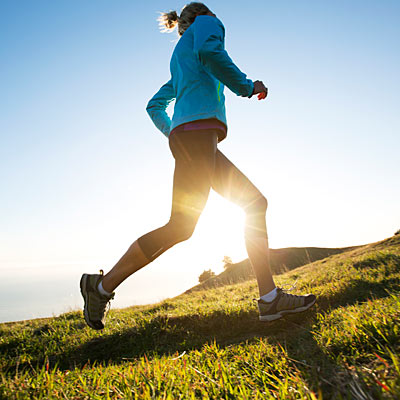 Running had served as an outlet for me before. I started running road races in my early 30s, partly for exercise and partly for stress relief. By my first pregnancy, I had completed three marathons, the final one to raise money for the Leukemia & Lymphoma Society in honor of my father, who had the blood cancer multiple myeloma.
My daughter, Johanna, was born in 2008 with Down syndrome. As I grappled with that, running once again became my therapy. I had been so intent on keeping it all together after her birth, but as we climbed hills in our neighborhood, Jo Jo happily gurgling away in the jogging stroller, I felt I had finally found a safe place to cry.
I ran on and off through my next two pregnancies, but between work and the kids, it was tough to find the time. My youngest, Geoffrey, was diagnosed with albinism, a rare genetic condition that meant he would be visually impaired. Then came the death of my father and the unraveling of my marriage. In the late spring of 2013, three weeks before my 40th birthday, I filed for divorce.
A ray of light
One day last January, getting breathless as I chased Geoffrey up the stairs, I realized I had to do something. I was out of shape, with 20 extra pounds and rising blood pressure. I owed it to my kids, and myself, to stay healthy.
I set my sights on a race on June 8 (my 41st birthday) in Lake Placid, N.Y. As a further incentive, I decided to raise money for the National Down Syndrome Society. The actual running, however, proved dicier. I could do three or four miles without going into cardiac arrest, but my days of effortless six-mile loops were long gone. I was also a bit nervous committing to training, given all the upheaval in my life.
It turned out that the structure and consistency were exactly what I needed. I followed the same New York Road Runners schedule I had used for my other marathons, adjusting it slightly so that I did my long runs when the kids were with my ex. As I ran, I listened to music and zoned out. For once I wasn't ruminating about whether Johanna was making enough progress in school or how Geoffrey and Teddy, my middle child, were doing on their nights away from me.
For months, I had been plagued by insomnia, but now I slept so soundly that I couldn't remember my dreams. And I was heartened by the support I received from family and friends. By marathon day, I had raised close to $6,000—about twice as much as I had anticipated.
Happy endings
I won't lie: I was worried about the race. Lake Placid was much hillier and hotter than where I had trained. But my kids were so thrilled by the idea of staying at a hotel and swimming in the local lake that their enthusiasm was contagious. (My mom and nanny came with us, for both child care and moral support.)
Adrenaline kept me going for the first half of the race, along with the clapping crowds and the breathtaking view of mountains. Unfortunately, nature wasn't all wonderful: June is peak black-fly season in Lake Placid, and a swarm attacked me at mile 13. Red, itchy welts popped up all over my arms, ears and face and the back of my neck. As the temperature climbed into the 80s, my head started to throb, I felt nauseous and my stomach and legs cramped up.
The old me would have gritted her teeth, grabbed another Gatorade and soldiered on. But my inner mommy voice kicked in, warning me that if I kept it up, I could cross the finish line on a stretcher. So I did something I never would have thought fathomable a decade ago: I walked the next mile. At mile 15, I broke out into a slow jog and kept that up, alternating with walking breaks.
At mile 22, I hit the proverbial wall. This is when the glycogen in your muscles and liver is depleted and you've got nothing left to give. Before the race, I wondered if running a marathon would be easier after enduring labor three times. Yet as I hobbled along, I would have given anything to be back in the delivery room. At least I'd be lying down.
Then I thought about Jo Jo and how, even with Down syndrome, she had achieved so many huge milestones that year: She had learned to read, despite her cognitive impairments, and she had mastered swimming, despite her low muscle tone. If she could succeed with her disability, then I could keep moving on my two perfectly fine (if exhausted) legs. I slowed to a crawl but kept on.
The last half mile was a steep hill. As I came up the incline, I saw my mother, leaning over a rampart snapping photos, and I started to cry. Suddenly, I was back in November 2004, at mile 16 of the New York City marathon, when I spotted my father in the crowd. I didn't know that he had dragged my mother, my sister and my then fiancé through all five boroughs until they caught sight of me. I just knew that he was there as promised, grinning, and I slowed ever so slightly to squeeze his hand before racing on.
Just as suddenly, I was back in Lake Placid, rounding out the last quarter mile and seeing my children sitting patiently on the grass. "There she is!" Teddy said, and they scampered to the finish line. While the volunteers placed a medal around my neck, my kids jumped on me like puppies. With newfound strength, I scooped the three of them up in my arms and we collapsed, laughing, onto the ground.
Tell us how can we improve this post?